Overview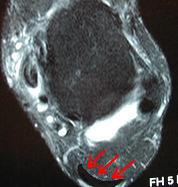 The Achilles tendon connects the calf muscles in the lower leg to the heel bone. It is the largest yet most exposed tendon in the body. Achilles tendonitis is where the Achilles tendon, and sometimes the protective sheath through which it moves, becomes inflamed, causing pain and swelling symptoms. Achilles tendonitis (also known as Achilles tendinopathy or tendonosis) is classified as an overuse injury. If left untreated it can become chronic (long-term), requiring more intensive treatment. Achilles tendonitis can also increase the risk of sustaining an Achilles tendon rupture (tear).
Causes
Tight or tired calf muscles, which transfer too much of the force associated with running onto the Achilles tendon. Not stretching the calves properly or a rapid increase in intensity and frequency of sport training can make calf muscles fatigued. Activities which place a lot of stress on the achilles tendon, such as hill running and sprint training, can also cause Achilles Tendinitis. Runners who overpronate (roll too far inward on their feet during impact) are most susceptible to Achilles Tendinitis. Runners with flat feet are susceptible to Achilles Tendinitis because flat feet cause a 'wringing out' effect on the achilles tendon during running. High arched feet usually absorb less shock from the impact of running so that shock is transferred to the Achilles tendon. Use of inappropriate footwear when playing sport or running e.g., sandals, can also put an extra load on the Achilles tendon. Shoes are now available that have been designed for individual sports and provide cushioning to absorb the shock of impact and support for the foot during forceful movements. Training on hard surfaces e.g., concrete, also increases the risk of Achilles Tendinitis. Landing heavily or continuously on a hard surface can send a shock through the body which is partly absorbed by the Achilles tendon. A soft surface like grass turf helps to lessen the shock of the impact by absorbing some of the force of the feet landing heavily on the ground after a jump or during a running motion.
Symptoms
In most cases, symptoms of Achilles tendonitis, also sometimes called Achilles tendinitis, develop gradually. Pain may be mild at first and worsen with continued activity. Repeated or continued stress on the Achilles tendon increases inflammation and may cause it to rupture. Partial or complete rupture results in traumatic damage and severe pain, making walking virtually impossible and requiring a long recovery period. Patients with tendinosis may experience a sensation of fullness in the back of the lower leg or develop a hard knot of tissue (nodule).
Diagnosis
On examination, an inflamed or partially torn Achilles tendon is tender when squeezed between the fingers. Complete tears are differentiated by sudden, severe pain and inability to walk on the extremity. A palpable defect along the course of the tendon. A positive Thompson test (while the patient lies prone on the examination table, the examiner squeezes the calf muscle; this maneuver by the examiner does not cause the normally expected plantar flexion of the foot).
Nonsurgical Treatment
Use the R.I.C.E method of treatment when you first notice the pain. Although rest is a key part of treating tendonitis, prolonged inactivity can cause stiffness in your joints. Move the injured ankle through its full range of motion and perform gentle calf and ankle stretches to maintain flexibility. If self-care doesn't work, it's important to get the injury treated because if the tendon continues to sustain small tears through movement, it can rupture under excessive stress. Your doctor may suggest a temporary foot insert that elevates your heel and may relieve strain on the tendon. Other possible treatments include special heel pads or cups to wear in your shoes to cushion and support your heel, or a splint to wear at night. Physical therapy may also help allow the tendon to heal and repair itself over a period of weeks.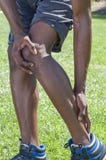 Surgical Treatment
Surgery can be done to remove hardened fibrous tissue and repair any small tendon tears as a result of repetitive use injuries. This approach can also be used to help prevent an Achilles tendon rupture. If your Achilles tendon has already ruptured or torn, Achilles tendon surgery can be used to reattach the ends of the torn tendon. This approach is more thorough and definitive compared to non surgical treatment options discussed above. Surgical reattachment of the tendon also minimizes the change of re-rupturing the Achilles tendon.
Prevention
You can take measures to reduce your risk of developing Achilles Tendinitis. This includes, Increasing your activity level gradually, choosing your shoes carefully, daily stretching and doing exercises to strengthen your calf muscles. As well, applying a small amount ZAX?s Original Heelspur Cream onto your Achilles tendon before and after exercise.